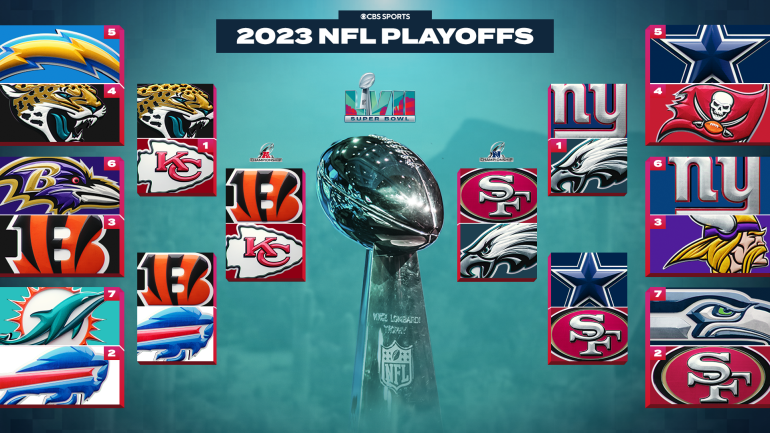 The NFL season is officially down to its final four teams and we're going to be seeing some very familiar faces. 
For the second year in a row, the 49ers, Chiefs and Bengals are all in the conference title round. The only newcomer this year is the Philadelphia Eagles, who are playing in the NFC Championship for the first time since 2017. 
The Eagles will be hosting a 49ers team that knocked off the Cowboys on Sunday continuing Dallas' 27-year drought without a conference title game appearance. 
This the Eagles-49ers game will be give us a matchup of two of the most successful NFC teams of the 21st century. Including this year, the Eagles have now made it to seven NFC title games, which is the most of any NFC team since 2000. The 49ers are tied for the second-most with six. Although they've both made multiple appearances in the NFC tile game over the past two decades, they've never played each other. 
In the AFC, we'll be getting a rare rematch. The Bengals-Chiefs game will mark just the third time over the past 35 years that the AFC Championship has been a rematch. The last time it happened came in 2011-12 (Ravens-Patriots), and before that, it hadn't happened since 1986-87 (Browns-Broncos).
The AFC Championship is also a rematch of a game played back in Week 13, which was won by the Bengals, 27-24. Cincinnati has played the Chiefs three times since Jan. 1 2022 and the Bengals have won all three games. 
With that in mind, here's a look at the entire postseason schedule and bracket. 
Super Wild Card Weekend
Saturday, Jan. 14
(2) 49ers 41-23 over (7) Seahawks. The 49ers got a brief scare from the Seahawks on a day where Seattle jumped put to a 17-16 halftime lead. But in the second half, San Francisco broke the game open with a dominating performance. Brock Purdy threw for 332 yards while also becoming the first rookie in NFL history to total four touchdowns in a playoff game. (Purdy finished with three passing touchdowns and one rushing score).
(4) Jaguars 31-30 over (5) Chargers. The Jaguars won this game by pulling off one of the biggest comebacks in NFL history. The Jags fell behind, 27-0, early in the game due in large part to four interceptions from Trevor Lawrence, but they rebounded to pull off the stunning win, thanks in large part to Lawrence, who threw four touchdown passes.  
Sunday, Jan. 15
(2) Bills 34-31 over (7) Dolphins. The Dolphins went into this game as the biggest underdog in the history of the wild-card round (+14) and despite those odds, they were still able to put a major scare into the Bills. In the end, the Bills were able to stave off the upset thanks to Josh Allen (352 passing yards, three touchdowns) and a defense that came up with multiple big plays,…


Read More: 2023 NFL playoff schedule, updated bracket: Dates, times, TV, streaming for 2023-01-23 07:07:40